From the President
Economists, who rarely see eye to eye on anything, do agree on one point—education is the one lever that can lift people out of poverty.
And at EDC, we concur.
Like Archimedes, who once asserted that with a long enough lever he would be able to move the earth, we apply what we know about education to build the greatest lever we can to move people and communities around the world to a higher standard of living.
Using education to empower people to live healthy, productive lives is at the very core of EDC's work. Taking interventions that research has shown to be successful, developing them into programs, and partnering with governments, schools, and practitioners to implement these programs is a hallmark of our method.
We take what works and make it real.
A great example of this approach is the Regional Educational Laboratory Northeast & Islands (REL-NEI) at EDC. REL-NEI conducts rigorous research to evaluate the efficacy of education policies and practices and then provides extensive technical assistance to districts throughout the region to put what's proven into practice.
"Using education to empower people to live healthy, productive lives is at the very core of EDC's work."
Likewise, our research into adolescent behaviors has informed state and community practice, helping policymakers better understand and address the causes and consequences of pressing public health problems. Through our leadership of SAMHSA's Center for the Application of Preventive Technologies (CAPT), we provide states, tribes, and jurisdictions with the information and tools they need to make policies that are both effective and compassionate. EDC's work with REL-NEI and the CAPT results in improvements that touch the lives of millions of children and adolescents each year.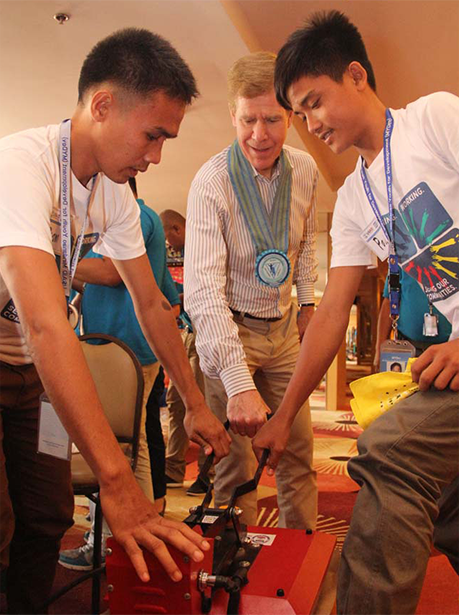 We use the same approach to tackle challenges in 22 countries around the world, such as the Philippines, Rwanda, and Honduras. Last year, EDC's literacy and workforce development projects provided hundreds of thousands of young people with the education and skills necessary to find jobs or run their own microenterprises, allowing them to lead better lives in a rapidly changing world.
These are just a few indicators of the impact EDC has had through our broad and deep portfolio of work. We have much to celebrate from 2015, and even greater opportunities lie ahead as we enter 2016 in a strong financial position.
So while Archimedes' notion of building a lever big enough to move the world may seem like a flight of fancy to some, here at EDC, we believe education is that lever. Our commitment to strengthening and applying that lever, and our potential to continue to do so, is what drives the people of EDC.
Each year, we embark on a new chapter of our work, building on our history of 58 years. All of us at EDC are proud of this legacy, and as president and CEO, I am both excited and privileged to lead us in applying our skills and knowledge to lift the world to a brighter future.
David G. Offensend
President and Chief Executive Officer
Education Development Center, Inc.